Chrapot says increased interest in the organisation, which runs Yiddish language classes, hosts events, and has its own theatre group and library, has come from several directions. "We're attracting more and more a younger cohort who are looking to reconnect with their Jewish cultural side without having religion as its key focus," she says. "They see the Yiddish language and culture as something that harks back to history – their grandparents, who perhaps they never connected with – and they are finding that community."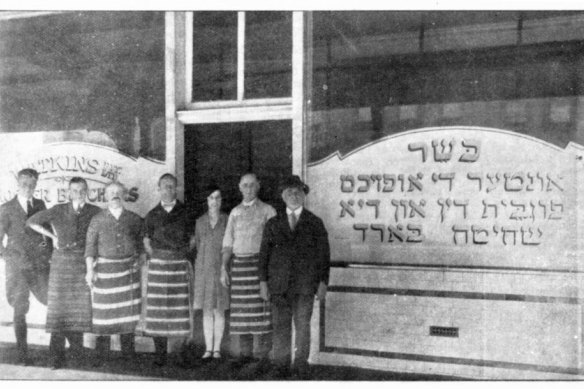 Then there are people who are not Jewish but have looked into family histories and found some sort of connection they want to explore. She says many of these emerged post-COVID, perhaps as people reassessed their place in the world and their core values.
According to Chrapot, there's also been a geographical shift: a strong Yiddish community has developed northside, "outside the shtetl [Yiddish for village] core that is based around the synagogues and community centres of Caulfield, East St Kilda and St Kilda. [They] are younger, maybe hipsters … not necessarily in traditional family environments."
Simon Starr is doing his bit to introduce a new generation to Yiddish culture. A former guitarist with Joe Camilleri's band, the multi-instrumentalist is the founder of YID!, a 22-person band that includes an eight-piece horn section, a six-piece rhythm section and a two-piece electronica section.
Loading
Vocalists include Alma, Syd and Hettie Zygier – the children of Deborah Conway and Willy Zygier, who also plays in the band – and Husky Gawenda. Playing a mash-up of Yiddish songs combined with elements of electronic dance music, Weimar Republic cabaret, free jazz and indie-pop, plus a little late '70s funk, it's a big-band sound with a difference.
Speaking before rehearsals for YID!'s album launch on Saturday, Starr says a YID! performance is "the sort of thing you really have to see to understand. A lot of people love the music, but after they've seen the show they get the mixture of utter chaos with absolutely precise performance. There's a lot going on."
In Elsternwick on Sunday, the Melbourne Jewish Food Festival will put all things culinary front and centre. American author and TV host Joan Nathan – spruiked as being to Jewish food what Julia Child is to French – will be in conversation with local cook and author Alice Zaslavsky and Sydney's Monday Morning Cooking Club. There's also cooking demonstrations, classes for kids and a home-baking competition.
Chrapot says all Melburnians are welcome to events such as the upcoming One Voice Festival in March, which sees Selwyn Street, Elsternwick – home to both the Kadimah and the Melbourne Holocaust Museum – closed off for festivities including food, music and art.
"For us, it's about sharing Jewish language and culture and keeping that open for all people and feeding that back into an understanding and a creativity about the world at large," she says.
"What we're aspiring to is celebrating that culture and connecting it more broadly to Melbourne's unique multicultural society."
YID! play Memo Music Hall on December 10; the Melbourne Jewish Food Festival is on December 11.
Yiddish words you might be using without realising it
Glitch – a malfunction or minor problem
Chutzpah – gumption or bravado
Schmaltzy – cloyingly sweet
Klutz – an awkward or clumsy person
Schmooze – to chat warmly or charm
Kvetch – to whinge or complain
Schlepp – to walk carrying something