Dave 'Hughesy' Hughes appeared in a recent episode of The Hundred with Andy Lee ask the Hundred some big questions.
Follow the latest episodes of The Hundred with Andy Lee on 9Now.
Things started with host Andy Lee asking The Hundred if they recognized who Hughesy is.
It turns out, yes, 92 percent of the Hundreds know who he is – and that is 1 percent more than Karl Stefanovic got.
Hughesy then had his own question for The Hundred, "In 2017, I bought a house on Blocks too much money. Do you think I just did it for attention? "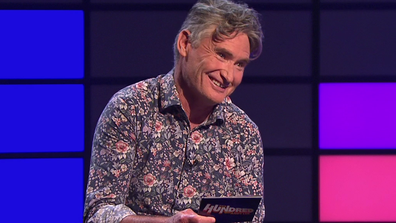 When Josh Barker and model Elyse Knowles won Blocks in 2017, of course, everyone wanted to know who sprayed $ 3.067 million on the home.
It was not long before it was revealed that it was comedian and radio host Hughesy who snapped up.
READ MORE: Dave Hughes gives a ride through his Block house three years after buying it
As The Hundred wrote their response, Andy turned his attention to Abbie Chatfield, who sat on the panel with comedian Luke McGregor and regular panelist Mike Goldstein.
Andy asked Abbie, an influencer and host Love Island Australia Afterparty, if she knew the answer, since she is "someone who knows how to get attention?"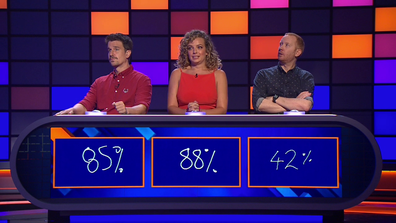 Hughesy went on to explain what really happened the day he bought Josh and Elyse's home.
"The day I bought it, my wife was not there," he recalled.
"She had taken the children to a birthday party, and I texted her to say that we had just bought a house. Blocks. "
READ MORE: A complete look into Josh and Elyse's winning Block home
"Do not tell anyone!" she wrote back even though it was too late and Hughesy had already been interviewed by Block hosted Scott Cam.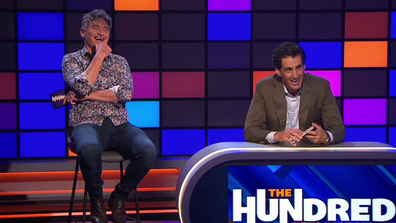 When The Hundreds results came in, as many as 56 percent of the population believed Hughesy was buying the property Blocks for attention. These statistics do not lie.
READ MORE: Mystery caller tells Dave Hughes' radio program about Mitch and Mark's theory
But it was not long before the conversation went on and Hughesy asked another question.
"Do you know anyone who does a Hughesy imitation?" he asked.
Only 5 percent of the population does. But Jack, who was part of The Hundred, gave his best imitation, as you can see in the video below.
Hughesy loved it and admitted that Jack's joke was one he never told, but maybe it will be in his next show after the reaction it got on the show.
The Hundred with Andy Lee airs Tuesdays at 9pm after Married at First Sight on Channel 9 and 9Now. Catch up latest episode of The Hundred with Andy Lee for free on 9Now.