Star Entertainment Group let the infamous "junket" gambling tour operator Suncity run a private gaming salon at its Sydney casino despite a series of incidents that strongly indicated that it laundered dirty cash.
And the casino group's CEO Matt Bekier later misled journalists by saying that The Star and Suncity "mutually agreed" to close the room in August 2019, when this masthead revealed the junkies' criminal connections.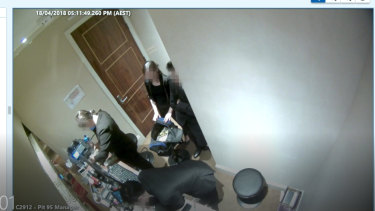 In fact, Suncity had simply moved to another room in the Pyrmont complex without its branding so it could continue to operate a "casino within a casino," the Royal Commission-like investigation heard of its casino license on Wednesday.
The Hong Kong-based Suncity was the world's largest "junket" that brought ultra-wealthy Chinese gamblers to Australian casinos, where they played millions of dollars an hour. But Suncity's dealings with Star and rival casino Crown Resorts became a major scandal in 2019, then Aging and Sydney Morning Herald revealed its ties to powerful Asian crime syndicates.
The Star query – which was also triggered by reporting in this masthead – heard that the casino provided Suncity with a private gaming room in 2016 that its customers could use for gambling, provided they used the Stars' "cage" to buy or redeem game chips.
But CCTV footage captured several cases in 2018 and 2019 of large amounts of cash collected in suitcases, cooler bags and backpacks that were brought into the room, and chips that were exchanged for cash from a service counter.
Star was aware of these incidents and sent Suncity two "warning letters". When Star Chief Investigator Andrew McGregor tried to interview Suncity employees in May 2018 about an incident in which a non-junket player was brought into the room and given $ 45,000 in cash, they "refused to answer questions". But despite this, The Star renewed its junket deal with Suncity in June 2018 and continued its relationship until October 2020.
The lawyer who assisted the investigation, Naomi Sharp, SC, told Star's group leader for due diligence and intelligence, Angus Buchanan, that this decision was "a completely inappropriate step to take into account the very high risk of money laundering" in the VIP lounge occupied by the Suncity junket ".
Sir. Buchanan replied, "It's surprising, I agree." The former police officer said it "certainly seems[ed]"Money laundering took place in the room.