Carolina was one of the most controversial brides on Married At First Sight Season 9, after her affair with Daniel played out on the show.
The couple are still going strong and their relationship was the one thing fans were keen to know more about during a recent Instagram Q&A.
Stream every episode of Married At First Sight for free on 9Now.
One follower went straight to the point and asked, "Is Daniel the love of your life?".
"Yes he is the love of my life!!" Carolina wrote on the reply while panning the camera to show him in the background.
Another fan was eager to know if Carolina, who has a 16-year-old son from a previous relationship, would have another child with Daniel.
"Not anytime soon but we've spoken about it and I would have one more," she revealed.
Carolina had her first child when she was 15 and raised her son as a single mother with the support of her family in Brazil.
READ MORE: Carolina on the judgement she faced as a teenage mother
"Is Daniel everything you were looking for?" Another follower asked.
"Yes, Daniel is everything and more than I was looking for," Carolina said before Daniel stole the show in a gorilla mask.
"I was trying to be romantic, but this weirdo."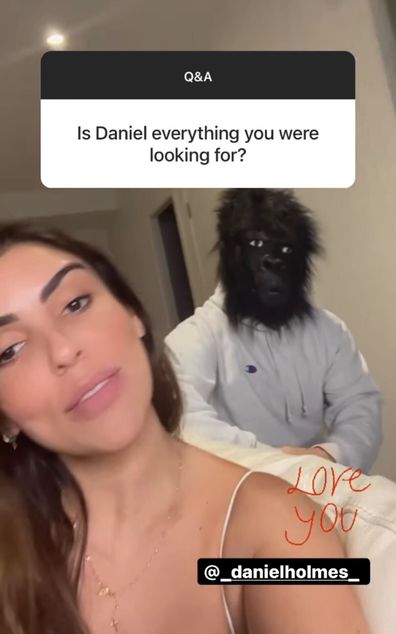 In the experiment Carolina was originally matched with Dion. But one follower wanted to know if that wasn't the case, would she still have ended up with Daniel
That was an easy answer for Carolina, who said, "We would find our way to each other."
READ MORE: Carolina Santos and Daniel Holmes' relationship timeline
Carolina and Daniel ruffled some feathers during their time on MAFS. Especially after they blindsided the whole experiment at one of the Commitment Ceremonies when they arrived together and told the experts they wanted to re-enter as a couple.
Despite being brutally shot down by the experts, the pair have made their feelings about their new relationship clear on Instagram. 
Sharing a post of herself and Daniel sitting on the couch during the tense moment Carolina wrote, "@_danielholmes_ I want you to know that I would do it all again. I will choose you every time. #MAFS." 
Carolina's Instagram bio now has Daniel tagged and features a diamond ring emoji next to his name.
It seems like even though it was a controversial road to love, things couldn't be going better for the couple.
In Pictures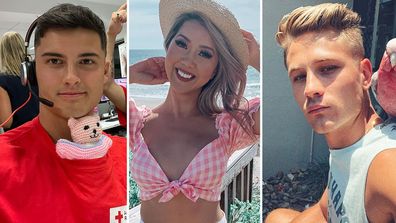 Where the MAFS Season 9 brides and grooms are now
New tattoos, new relationships and new scandals
View Gallery
Stream every episode of Married At First Sight for free on 9Now.