Salvatore, 2021, a painting by Dublin artist David Booth has been named as the winner of the National Gallery of Ireland's Zurich Portrait Prize 2022.
The painting, a portrait in oil on board of artist Salvatore of Lucan, was revealed as the winning portrait this evening at a prize-giving ceremony in the gallery.
Salvatore, the sitter, was winner of the Zurich Portrait Prize 2021. As well as a prize of €15,000, David will receive a commission worth €5,000 to produce a new work for the National Portrait Collection.
Cara Rose and Gavin Leane, both from Dublin, received highly commended prizes to the sum of €1,500 for their respective portraits, Double Self Portrait, 2021, in coloured pencil on paper; and Several Days Hence, 2022, a photograph. Ms Rose was shortlisted for the Zurich Portrait Prize in 2018.
On his winning portrait, Mr Booth said: "The portrait is of fellow artist and friend Salvatore. I spotted Sal one morning while in the studio. He was suited in a brilliant red Adidas one-piece tracksuit, his hair jet-black, and his pointed features solemn and reflective.
"I sat Sal down and took his picture. The life of an artist is characterised by intense ambitions and doubts. With this portrait I wanted to convey this, and the way in which Sal is resting into contemplation."
Born in Dublin in 1986, Mr Booth's primary focus is on painting and drawing. Having completed a BFA at Wexford Campus School of Art in 2013, he moved to Dublin to begin his career as an artist.
He has been working full-time as an artist for almost eight years, during which time he has exhibited both nationally and internationally. His work has featured previously in the Zurich Portrait Prize in 2018 and 2020, and was an exhibited artist at the BP Portrait Award in London in 2019.
Mr Booth has been featured in The Irish Times and Totally Dublin and awarded the Evans Painting Prize in 2016. He recently finished his Solo Show 'Polybond' at Hangtough Contemporary, Dublin and has work in both private and public collections.
Dublin girl, 13, wins Zurich Young Portrait Prize
New Beginning, 2022, a painting on canvas by Meilin Ava Song, age 13 and from Dublin, was selected as the overall winner of the Zurich Young Portrait Prize at a ceremony at the National Gallery today.
As well as a wooden box of high-quality art materials, the prize includes a €500 cash prize.
In her artist's statement, Meilin said: "In this piece, my mother is enjoying the sunshine. It was taken in my back garden during summertime.
"The bold blocks of colour reminded me of my mother's confident and bright personality."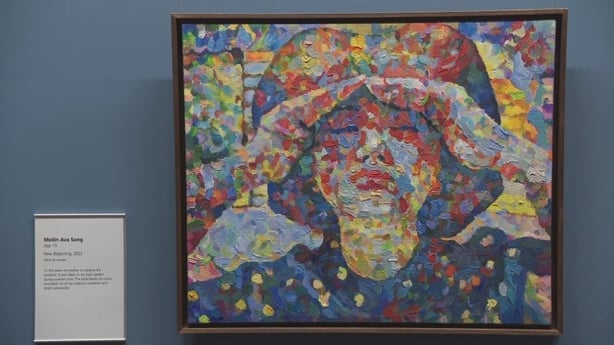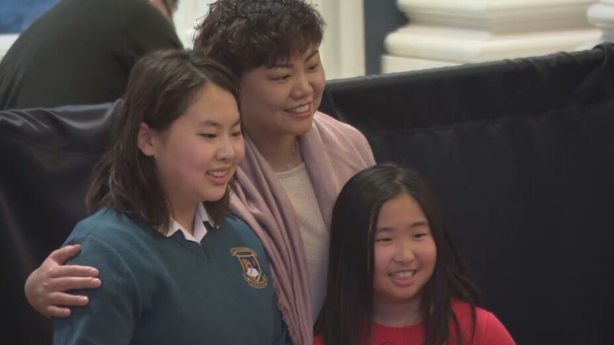 Pierre Gaultier Swords, age 5 and from Cavan, won the youngest category with Self-Portrait of Pierre, 2022, a drawing in oil pastel and marker on paper.
In the second category, Haochen Gao, age 11 and from Dublin, won with I Like Balls, 2022, a drawing in oil pastel on canvas.
Viktoria Kroejeva, age 15 and from Clare, was the winner of the category for ages 12-15 with Day Out, 2022, a painting in oil and acrylic on canvas.
Ross McHale Ross McHale, age 17 and from Kildare, won the final category with his oil painting on canvas, A Portrait of the Artist as a Young Man, 2022.
Each category winner was awarded a personalised box of art materials alongside a prize of €250.