This is probably the worst piece of legislation introduced in Alberta since the Social Credit bills of the 1930s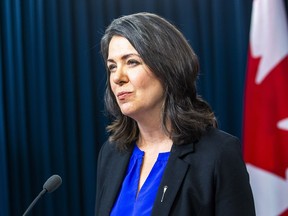 Article content
Alberta is engulfed in a heart-wrenching crisis of children's health that even makes official cruelty unavoidable.
Article content
Mortally ill children are being moved from the hospice where they were lovingly cared for, into the Alberta Children's Hospital itself, along with their care teams.
Article content
Respite care, which helps families whose kids have severe disabilities, will simply stop. The children will be sent home or to other destinations parents might arrange.
Everybody involved is appalled that this is happening.
Dr. Ed Les, an ER doctor at the children's hospital who blogs passionately and often controversially about what he sees, posted Sunday: "That we are being forced to abandon kids who have been dealt the absolutely worst of hands so that we can care instead for other kids is something I never, ever thought I would witness as a physician in a country as wealthy and advanced as Canada.
Article content
"This is something that should keep all of us up at night; and something that — if nothing else — should prod your government to properly take charge of this crisis."
The UCP, in its late-pandemic denialism, has not publicly raised a genuine system breakdown to anything like the level it deserves.
There is an almost pathological unwillingness to acknowledge the power of this latest viral assault, so desperate are the leaders to move on. At a moment when so many children are sick, Premier Danielle Smith seems most passionate about protecting people against vaccination.
The government is also frozen in a crisis of its own making, the sovereignty act.
As it stands, this is probably the worst piece of legislation introduced in Alberta since the Social Credit bills of the 1930s, which sought, among other things, to jail critics of the government and place national banks under provincial control.
Article content
The sovereignty act before the legislature has three massive problems; it's genuinely dictatorial, too broad in scope, and completely impractical.
It includes an outrageous application of the "Henry VIII clause," which takes the power to change and write laws from the legislature and gives it to the premier and cabinet.
The clause got its name from the murderous king who in 1531 decreed the Statute of Sewers (fitting in our new context) that gave taxation powers to permanent commissions.
The federal government recently used the tactic in its bill on greenhouse gas pricing. Alberta opposed it vigorously in the Supreme Court.
"This provision, known as a 'Henry VIII clause', is inherently contrary to established notion of parliamentary democracy and offends the rule of law," said a provincial submission.
Article content
Now, Smith's government is the offender — but much more broadly.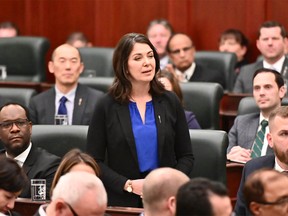 Once the cabinet has a legislature resolution on some federal affront, the premier and ministers have full power to rewrite laws, declare laws invalid, write entirely new laws and issue action orders to "provincial entities."
All this without further reference to the legislature, whose main reason for existence is supposed to be debating, amending and passing laws.
That's the state of the bill still before the legislature. But government MLAs, already alarmed, have heard powerful negative feedback.
On Monday, the UCP caucus announced that amendments will be introduced in committee Wednesday.
They say one will ensure that any change to law will have to go back to the legislature for full debate and three readings before passage.
Article content
If that happens, it will improve the most dangerous feature of the bill. We shall see.
Second, the sovereignty act is ludicrously wide-ranging. It would confer power to defy federal law not just when a federal move is arguably unconstitutional, but even when virtually anything Ottawa says offends the government.
A "federal initiative" that could invoke retaliation is defined as "a federal law, program, policy, agreement or action, or a proposed or anticipated federal law, program, policy, agreement or action."
Smith's caucus has wised up to that problem as well. A second amendment is said to ensure that federal "harms" must be arguably unconstitutional, affect Albertans' Charter rights, or interfere with Alberta's sole constitutional jurisdiction.

Article content
Together, the amendments would be take two of the sharpest corners off the bill. But they aren't introduced yet. 
Finally, and equally absurd, anti-Ottawa actions would be carried out by "provincial entities" — that is, almost any body that receives provincial funding — and some that don't — including municipalities, school boards, universities and police forces.
An entity could, for instance, be ordered not to pay federal carbon tax in retaliation for some offence or other. The appointed board members, forced to break a law, would render their own liability insurance null and void.
That's just one of a thousand unforeseen complications. This bill could create a powerful Alberta resistance movement — but against the heavy-handed province, not Ottawa. And there was no talk Monday of amending that section of Bill 1.
Article content
Pediatric respite care pause in Calgary shows health system on a 'knife's edge'

Braid: Smith gains but Bill 1 heats up. Alberta fought federal 'Henry VIII' clause only last year

Braid: Smith's sovereignty act troops are uneasy about following her into battle

Braid: The Alberta Sovereignty Act finally lands. It's so tough Ottawa might consider disallowing

Braid: Albertans won't forget Smith's talk show years – because she meant what she said
For good measure (and good reason), the act prohibits any Albertan injured in this forced march from suing the government.
Yes, the province should often push back against Ottawa. Sure, the feds stretch the Constitution every chance they get.
But there are many legitimate steps the province can take without a sovereignty act. Five of Smith's leadership opponents made that case powerfully during the campaign. Four got cabinet jobs and now they sing Smith's song.
This bill is a complete mess that makes Alberta look ridiculous. It seriously erodes Albertans' own democratic rights with little prospect of doing any good.
Smith may yet rescue it with the promised changes and hopefully several more.
But the original bill — still the official one — richly deserves to be deep-sixed so the politicians can focus fully on the areas that really need attention. The children's health crisis, for one.
Don Braid's column appears regularly in the Herald
Twitter: @DonBraid