Jennifer Lopez was officially crowned as an icon on iHeartRadio Music Awards at the Shrine Auditorium in Los Angeles.
When JLo was introduced on stage by host LL Cool J, her main character, Ben Affleckwas seen in front and in the middle, standing between his son Samuel and Lopez 'daughter Emme and beaming up on stage.
Nearly a year after the couple resumed their romance, Affleck could not hide her pride in her leading lady when she took the Icon Award home.
READ MORE: Kanye West can not perform at the Grammys, but he can still participate – what happens if he wins?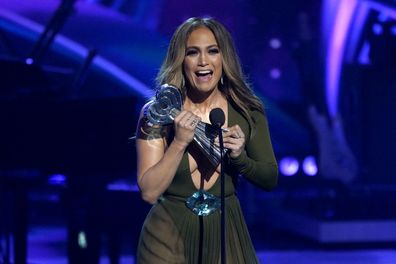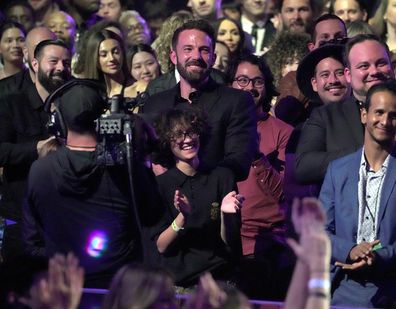 Lopez gave a heartfelt and at times emotional acceptance speech and thanked fans for helping her live a life beyond her wildest dreams for "a little girl who grew up in the Bronx".
"I'm going to do what I love most in life, and that's the most wonderful blessing," Lopez said.
READ MORE: Jennifer Lopez reveals interview from 1997 to celebrate the 25th anniversary of the film Selena
"It's a gift you give me and I just want to say thank you for that. Thank you to everyone who comes to a show, streams a song, watches a movie, follows me … You made that dream come true fulfillment. I I shake! And I will always be grateful to each and every one of you for it. "
"I want to say thank you to all of you for believing in me when other people did not, even when I did not," she added, getting a little suffocated before telling fans, "I just started. "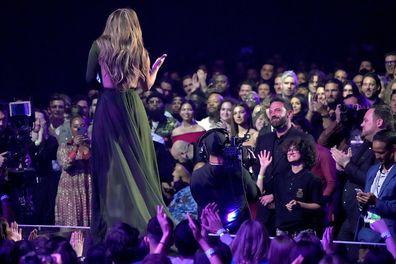 Truly Jenny from the block style, the singer kept it real, paused a few times to take some hair out of her mouth and made a joke of it with the audience.
When the 52-year-old left the stage, she stopped to kiss both Emme and Ben.
JLo also delivered an amazing performance, beginning with a medley or her biggest hits and her most iconic looks over the last 25 years, which were recreated by drag artists.
The singer then started her set with the song 'On My Way' from her latest rom-com, Marry mefollowed by her hit 'Get Right', which was first released in 2005.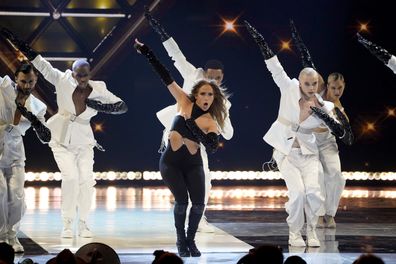 Lopez was recognized as a musical artist for his pop culture influence and long-lived career. In an entertainment career that spans 25 years across film and music, Lopez is the only artist to have a number one film and album in the United States at the same time – when The wedding planner and J.Lo was released back in 2001.
Another highlight was John Legends and Charlie Puth's dueling pianos, who played parts of each other's hits. Legend took over Puth's' See You Again ',' We Don't Talk Anymore 'and' Attention ', while Puth performed Legends" Ordinary People 'and' Tonight (Best You Ever Had) '. The two then joined 'All Of Me', 'Dope' and Puth's current smash, 'Light Switch'.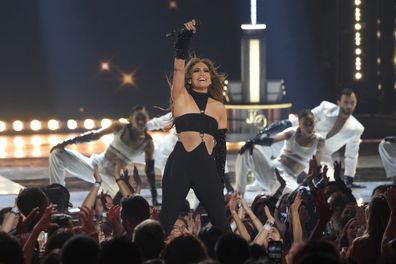 For a daily dose of 9Honey, Subscribe to our newsletter here.
Others who showed up in person to receive trophies were Olivia Rodrigo, Silk Sonic, Lil Nas X and Australian artist Kid LAROI.
Also in the house were David Guetta, Avril Lavigne, Shaun White, All Time Low, Willow Smith, Robin Thicke, Nicole Scherzinger, Gina Torres, Oliver Hudson, Taylor Momsen, Lainey Wilson, Dove Cameron, Danica McKellar and Kelly Rowland. stars of music and television.
Elsewhere, rockers Foo Fighters took home several awards, while Moonlight was named Best New Alternative Artist. New Jersey's Jax, who attended the show with his mother, was recognized as the TikTok songwriter of the year.
Dua Lipa, who played across town at the Forum for a two-night stand, won for Song of the Year (for 'Levitating') and Dance Album of the Year (for 'Future Nostalgia').
The iHeartRadio Music Awards pay tribute to the most played artists and songs across iHeartRadio stations and the iHeartRadio app. This year's nominations were led by Justin Bieber, who was nominated for Best Male Artist and had two contributions to this year's song – one of which was with Australian artist Kid Laroi for 'Stay'.
Other artists with multiple nominations include Doja Cat, Olivia Rodrigo and Silk Sonic.
2022 iHeartRadio Music Awards – Full list of winners:
Song of the Year: "Levitating" – Dua Lipa
Female Artist of the Year: Olivia Rodrigo
Male Artist of the Year: Lil Nas X
Best duo / group of the year: Bruno Mars, Anderson .Paak, Silk Sonic
Best Collaboration: "Stay" – The Kid LAROI & Justin Bieber
Best New Pop Artist: Olivia Rodrigo
Pop Album of the Year: 30 – Adele
This year's alternative song: "Monsters" – All Time Low with black bear
Alternative artist of the year: Machine Gun Kelly
Best New Alternative Artist Presented By Stifel: Moonlight
Alternative Album of the Year: Happier Than Ever – Billie Eilish
Rock song of the year: "Waiting On A War" – Foo Fighters
Rock artist of the year: Foo Fighters
Best new rock artist presented by Stifel: Mammoth WVH
Rock album of the year: Medicine at Midnight – Foo Fighters
Country Song of the Year: "If I Didn't Love You" – Jason Aldean & Carrie Underwood
Country Artist of the Year: Luke Combs
Best New Country Artist Presented by Stifel: Lainey Wilson
Country Album of the Year: Dangerous: The Double Album – Morgan Wallen
Dance song of the year: "Do It To It" – ACRAZE with Cherish
Dance artist of the year: David Guetta
Dance album of the year: Future Nostalgia – Dua Lipa
This year's hip hop song: "What You Know Bout Love" – ​​Pop Smoke
Hip-hop artist of the year: Drake
Best new hip hop artist presented by Stifel: Yung Bleu
Hip-Hop Album of the Year: Off-season – J. Cole
This year's R & B song: "Leave The Door Open" – Bruno Mars, Anderson .Paak, Silk Sonic
R&B Artist of the Year: Jazmine Sullivan
Best new R&B artist presented by Stifel: Giveon
R&B Album of the Year: An Evening with Silk Sonic – Bruno Mars, Anderson .Paak, Silk Sonic
Latin Pop / Reggaeton Song of the Year: "Pepas" – Farruko
Latin Pop / Reggaeton Artist of the Year: Bad Bunny
Latin Pop / Reggaeton of the Year Album: KG0516 – Karol G
Regional Mexican song of the year: "La Casita" – Banda Sinaloense MS De Sergio Lizárraga
Regional Mexican Artist of the Year: Caliber 50
This year's regional Mexican album: Corta Veins – Armed Link
Best New Latin Artist Presented by Stifel: Grupo Firme
iHeartRadio Icon Award: Jennifer Lopez
iHeartRadio Trailblazer Award: Megan Thee Stallion
This year's iHeartRadio Tour: Harry Styles
iHeartRadio Chart Ruler Award – Most Weeks at # 1 at CHR (12 Weeks): "Stay" – The Kid LAROI & Justin Bieber
iHeartRadio Hat Trick Award – 3 # 1 singles from the same album on CHR: Lil Nas X
Producer of the year: Finneas
Songwriter of the year: Omer Fedi
Brand of the Year: Republic Records
Best Text: "All Too Well (10 Minute Version) (Taylor's Version) (From The Vault)" – Taylor Swift
Best cover song: "good 4 u" (Olivia Rodrigo) – Camila Cabello
Best fan army: #BTSARMY – BTS
Best music video: "Butter" – BTS
Social Star Award: Bella Poarch
Favorite Tour Photographer: Love On Tour (Harry Styles) – Anthony PHAM
This year's TikTok Bop: "good 4 u" – Olivia Rodrigo
Best Comeback Album: 30 – Adele
This year's TikTok songwriter: Jax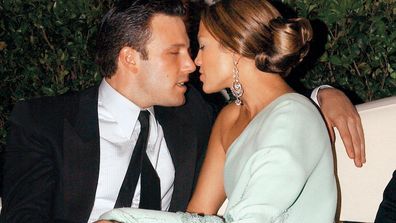 Jennifer Lopez and Ben Affleck in pictures: Bennifer over the years