You might be too old to play in one yourself, but you would have seen them or taken your kids to one: the brightly coloured plastic playgrounds – slide, swing set, monkey bars – that can be found in just about any council park around Australia. Sure, they're lots of fun, but can we do better for our kids?
In inner Melbourne in the past few years there has been a shift towards nature-based play and away from the cookie-cutter designs of our staple, safety-first playgrounds.
The first of these was the "Nature Play" playground in Royal Park, Parkville. This award-winning design features a "forest climb" ropes course for older kids and a water play area. It opened in 2015 on the site of the former Royal Children's Hospital Building and was named the nation's best playground by the Australian Institute of Landscape Architects in 2016. What was perhaps not appreciated at the time is the extent to which this would shape things to come.
More recently, Lincoln Square in Carlton has been revitalised. This site was first used as a playground in 1907, making it Melbourne's oldest dedicated play space since European settlement. Back then, the play equipment consisted of swings, maypoles and seesaws installed after a resident complained about the lack of facilities to the editor of The Age. There have been many redevelopments of the space since those days, however the most recent reimagining is exceptional.
Nestled under the majestic canopies of 150-year-old Moreton Bay fig trees is a collection of boardwalks, ferns, pods and play areas. There is not a piece of coloured plastic to be seen. Instead, timber and some steel serves as a backdrop to the natural elements. Recycled logs, inscribed with their species and origin, are placed as balance beams, obstacles, and seating. One log has been hollowed out to provide a tunnel for pre-schoolers to climb through.
Fun and nature-inspired infrastructure like this is vital to making our city family-friendly. For too long the perception has been that kids must have a suburban backyard to have a "proper" childhood. But what our urban playgrounds prove is we don't all need a backyard to provide a space to play. Families do not need to own their own tree house, cubby house or swing set when the community facilities are of this standard.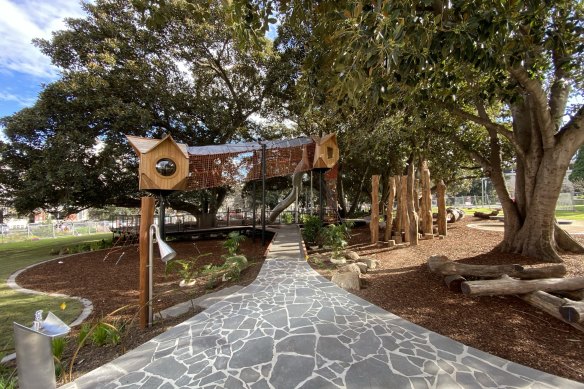 Spaces like these draw locals from their homes. By actively supporting a diversity of ages and household types within Melbourne, we encourage neighbours to build cross-generational connections, improving our overall resilience and our sense of community.
The Lincoln Square playground also breaks down other perceptions of our city. How often do we hear that our society has become far too protective, or that we have built a nanny state that will not allow kids to be kids. Yet at this playground the risks have not all been designed away. We know that play, including being allowed to take risks, is important for kids' development. Here there is an understanding that parents and carers can judge for themselves what is suitable for their child, and that in itself encourages active engagement in the child's play.