Utah authors David Butterworth, left; Janelle Thompson and Liesl Francom, center; and Jaren Ahlmann, right, pose with their books. (David Butterworth, Janelle Thompson and Jaren Ahlmann)
Estimated read time: 7-8 minutes
SALT LAKE CITY — Each month, I write a book column highlighting some of my favorite themed children's books so other parents who love reading as much as I do can create happy memories of reading with their kids.
From Halloween picture books to those celebrating Black History Month, it's been fun to discover a variety of juvenile literature. Recently, I've been lucky enough to read a few books written by Utah authors. If you're searching for book recommendations, I would suggest these three local reads.
'It's Okay to Disagree' by David Butterworth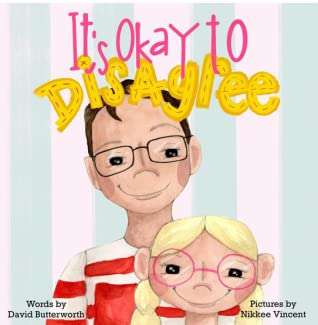 David Butterworth of Woods Cross finds himself frequently disagreeing with his two small children. In his recently self-published book, "It's Okay to Disagree," Butterworth writes about a father and daughter who have a variety of disagreements — from their favorite flavor of ice cream to whether the girl needs to get her homework done. Throughout the book, the reader is reminded that it's OK to disagree, and parents are given great tools for how to handle disagreements with their kids.
"It's been much more effective talking to my kids now because they have this little phrase in their back pocket that they kind of will throw out there, and they'll just say, 'Oh yeah, it's OK. I feel differently,' and I don't know that I really heard that before," Butterworth said.
Butterworth feels that reading this book to his children helped the lesson of "It's Okay to Disagree" sink in better with his kids than if he were to just teach them the lesson without the book. He thinks it was helpful for them to read about other characters learning the lesson rather than just hearing it from him and his wife.
He hopes reading this book gives kids the courage to disagree with others and the acceptance when others disagree with them. He believes it's important for people to see each other for who they are and to respect that.
"Being able to acknowledge that somebody else disagrees with me is acknowledging that they are themselves — they're not me, they're not an appendage, they're entirely themselves and they're a person — and so that requires a certain amount of respect and dignity to go along with that."
This book can be purchased on Amazon.
'Finnigan's Leprechaun Luck' by Janelle Thompson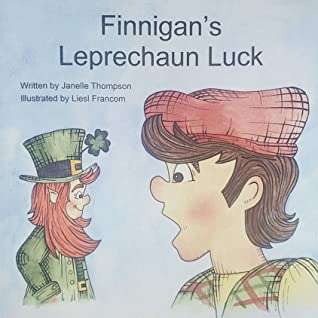 Finnigan McFee has a talent for finding things, and he is determined to find a leprechaun. When he does eventually find one, he quickly becomes subject to its tricks. Rather than allowing Finnigan to wish for a pot of gold, the leprechaun convinces him to find the pot of gold — but it doesn't end up being as easy as Finnigan hopes. This adventuresome book by Cedar City author Janelle Thompson is a fun read for St. Patrick's Day or really any time of year.
Thompson published this book on Amazon in 2020. She said she loves holidays and loves reading books with her kids, but she can never seem to find enough good St. Patrick's Day books to read with them, so she decided to write one.
"I hope that when kids read it they have fun," Thompson said. "I think there's so much curiousness in the world, and I think sometimes kids just need a book that is fun; something they can read for enjoyment and that sparks creativity and imagination."
Growing up in Monticello, Thompson said they were always in a drought and lack of rain was a constant issue for the farmers and ranchers who depended on it for their livelihood. If she ever saw a rainbow growing up, it was a magical time because it meant it had rained. It was fun for her to capture the magic of the rainbow in her book, she said.
"I also hope that when (kids who read my book) see a rainbow, that they'll think, 'Oh, well I can't find the end of the rainbow because the leprechaun is moving it,'" Thompson said. "And I hope they will go out and chase the rainbows and search for four-leaf clovers; and if they find a four-leaf clover, I think it's fun for them to know that that's where the end of the rainbow used to be, so I hope they'll think of that."
Thompson has three books that are available for purchase on Amazon: Finnigan's Leprechaun Luck, Bedtime Fairy Magic and My Easy ABCs.
'Flight of the Tooth Fairy' by Jaren Ahlmann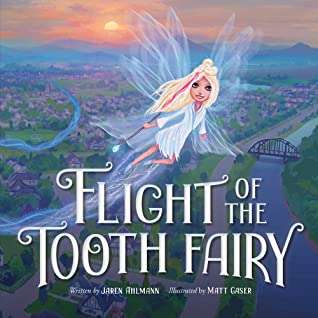 "Flight of the Tooth Fairy" details the secret life of the mystical creature we all eagerly waited for each night after we lost a tooth.
Orem author Jaren Ahlmann conceived the idea for the book one year as he was looking at the "Elf on the Shelf" and wondering what other magical creatures had never really had their story told. He said this book is like the tooth fairy's nightly journal and answers a variety of questions kids have about her, instead of just one or two like other children's books about the tooth fairy do. He even interviewed his neighbor kids to find out what questions they had about the tooth fairy.
"Books are our window to a different world where kids can just use their imagination," Ahlmann said. "They can become these characters, they can meet new people, and it builds their confidence."
Ahlmann has had his fair share of experience with the competitive children's book industry. He started writing his book at the end of 2010, and it was rejected more than 100 times. He was going to self-publish it but with the help of his illustrator, he kept trying. Eventually, a Northern California publishing company called The Collective Book Studio picked it up.
Now, it can be purchased on Amazon, at Target, Walmart and Barnes and Noble.
"You realize that there's so much to life, there's so much beauty, imagination out there that sometimes we don't realize it unless we pick up a book," Ahlmann said. "We get so caught up in electronics and this and that, that (we forget) the greatest imagination is within our minds — and books will do that for kids. And that's what I want to encourage kids to do, is go find a book that you can't put down and read it. And over time, you'll become more confident in yourself."
Next year, Alhmann's second book, "I Hope You Will Know," will be released. He said it's about the dreams and wishes every parent and grandparent has for their kids and grandkids.
×
Photos
Most recent Home & Family stories
More stories you may be interested in