She said yes! Megan Fox and Machine gun Kelly are engaged after dating for almost two years.
The pair announced the exciting news on Wednesday in two separate posts on their respective Instagram accounts.
"In July 2020, we were under this banyan tree," Fox, 35, wrote in the caption of her post. "We asked for magic. We were not aware of the pain we would go through together in such a short, hectic period. We were not aware of the work and sacrifices the relationship would demand of us, but we were drinking the love. And the karma."
READ MORE: Megan Fox and Machine Gun Kelly's Full Relationship Timeline
"Somehow, a year and a half later, after walking through hell together and laughing more than I ever thought possible, he asked me to marry him. And just like every life before that, and like in every life that will follow it, I said yes… and then we drank each other's blood. 1.11.22 ✨."
READ MORE: Megan Fox Through the Years: 2001 to 2021
In his own Instagram postKelly – whose real name is Colson Baker – shared a video of Fox's hand showing off the emerald and diamond engagement ring
"'Yes, in this life and in every life' – under the same branches we fell in love with, I brought her back to ask her to marry me," he wrote in the caption.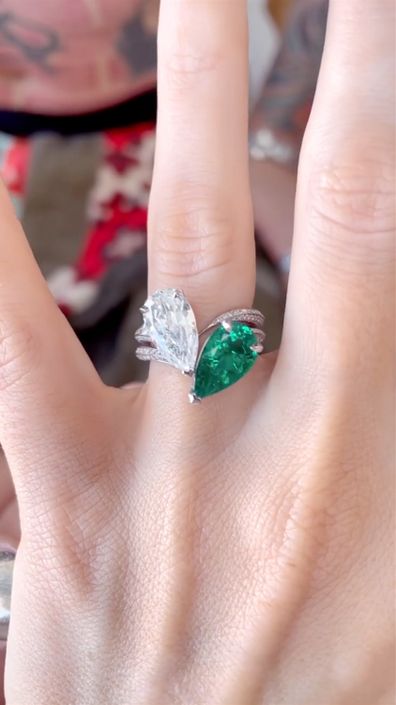 "I know tradition is one ring, but I designed it with Stephen Webster to be two: the emerald (her birthstone) and the diamond (my birthstone) set on two magnetic bands of thorns that contract like two halves of the same soul that forms the obscure heart that is our love. 1/11/2022."
READ MORE: The Young and the Restless star fired after COVID-19 breach
Fox met Kelly, 31, in 2020 while on the set of Midnight at the Switchgrass. They then went public with their relationship after the Transformers star was featured in the singer's music video 'Bloody Valentine'.
In an interview with GQ last year, the MGK revealed that he was pining for Fox long before they met and started dating. He confessed that he was such a fan of the actress, he got a Decepticons logo from her movie, Transformers, tattooed on his arm and had a poster of her in his bedroom.
READ MORE: Five people stop getting married because of the bride's strict rules
"It Was Hers" GQ shoot," Kelly said of the poster hanging on the bedroom wall at his home in Cleveland, where he grew up. "So that's a circular s–t."
Fox divorced from actor Brian Austin Green, with whom she shares three sons: Journey River, four, Bodhi Ransom, seven, and Noah Shannon, eight. Green confirmed his split from Fox after nearly 10 years of marriage in May 2020 before their divorce became final in October 2021.
Meanwhile, Kelly shares 12-year-old daughter Casie with ex Emma Cannon.
For a daily dose of 9Honey, subscribe to our newsletter here