An 80-year-old man was driving over a roundabout in his blue Ford Falcon sedan along Glenfern Road in Ferntree Gully, near the intersection of Brennock Park Drive, when the trailer rolled over at around 6:40 PM.
All three cows got loose and began to wander the local streets for hours.
Firefighters, SES personnel, local vets, vet nurses, farmers and city guards searched for the animals until the evening.
Two cows were found in Kings Park and the last cow was in the backyard of a Dawson Street property.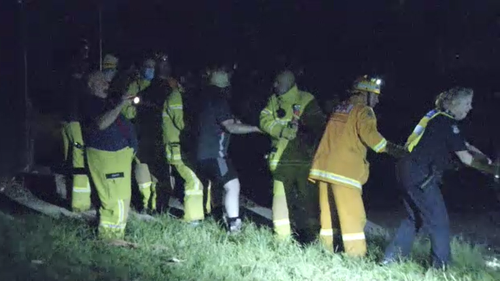 They were sedated before they could be safely removed from the area and transported home.
Knox, senior police sergeant Melanie Woods, said people gathered to look for the cows was a "wonderful show of community spirit."
"Luckily no one was injured when we searched for the girls, as they were quite upset and had sometimes attacked people trying to help with their recovery," she said.
"I want to say a big thank you to everyone involved as we couldn't have brought the heifers home safely without the help of those who came out and kept the course."