Prime Minister Scott Morrison will personally introduce a bill in the federal parliament on religious discrimination, although some of his moderate lawmakers still question the "necessity" of the law.
Highlights:
Details of a controversial and long-awaited bill to provide more protection to religious people have been made public
The bill strengthens the security of religious organizations that want to hire workers according to their beliefs
Proposals to protect medical practitioners who refuse treatment for religious reasons have been cut
After the gay marriage debate in 2017, the coalition government promised a bill to provide more protection to people of faith. It was a promise made in the last election.
The law, which was finally released to the public on Tuesday afternoon, aims to ensure that Australians who make "statements of confidence" receive additional protection from existing state-based discrimination laws.
It states that moderate religious beliefs are not discriminatory unless they are fabricated maliciously and that "a reasonable person" does not think they are "threatening, intimidating, harassing or insulting an individual or group."
The bill ensures that organizations run by religious institutions, such as schools, can give priority to the employment of people of the same faith.
"Religious primary schools, for example, require all its staff and students to practice that religion, if such a requirement is necessary to avoid hurting the religious sensitivities of people of that religion, it is not discrimination," the bill states.
Similarly, organizations will receive additional protections to ensure that they are able to fulfill their trust in a special way.
"For example, a residential elderly care facility or hospital … does not discriminate against minority religious groups, such as Jews or Greek Orthodox by providing services to meet the needs of residential elderly care homes (including dietary, cultural and religious needs)." The bill explains.
However, organizations must ensure that their conduct is in accordance with a "publicly available policy" that clearly defines how religious views will be applied.
Moderate liberals are concerned about the discrimination bill
Despite assurances from ministers, many moderate Liberal backbenchers expressed concern about the law at a meeting in the party room on Tuesday.
Queensland backbencher Warren Antes said he "still questions the need for it".
"I am honored that we have taken this to the polls," the Liberal MP told ABC.
"But there are some elements that concern me."
The bill is expected to be voted on in the lower house and sent to the Senate next week, where it will likely be the subject of a committee investigation.
The final vote can then be taken at the beginning of next year.
"We need to give it a high level of transparency and test the veracity of certain commitments [the government] Has done, "Mr Entsch said.
Religious lobby groups and some church leaders are pushing for parliament to pass the bill before the next federal election.
But some critics, including some LGBT groups, fear it could discriminate against people in homosexual relationships and override state-based discrimination protections.
"Because Tasmania is anti-discrimination [Act] Australia is the best, it is the most targeted under the extreme and impractical federal bill, "said Rodney Krum, spokeswoman for Equality Tasmania.
Conservative politicians say laws are 'shields, not swords'
Some controversial proposals have been removed from the final bill.
The so-called "Folau" section has been cut in the name of former Wallaby Israel Folau, who was fired for commenting on social media by Rugby Australia.
This may limit control employers to statements of confidence.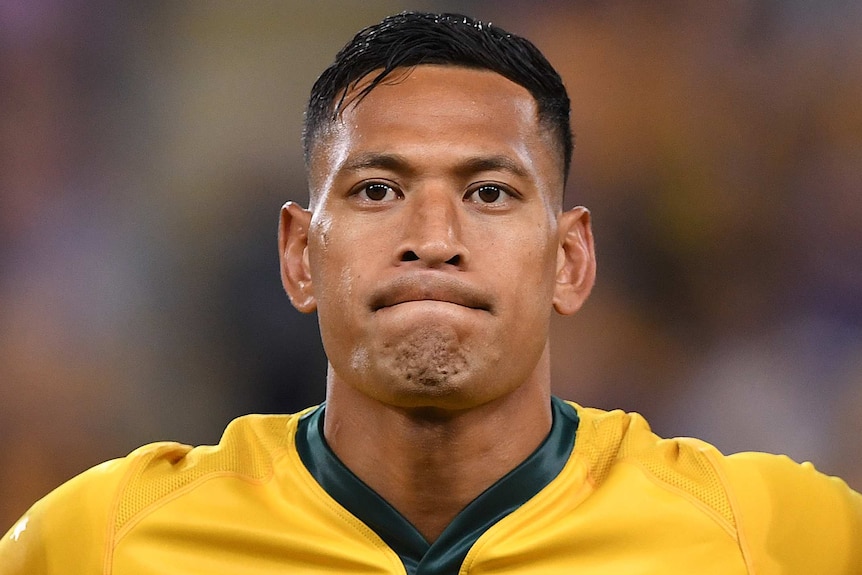 Offensive protections for doctors and other medical professionals have also been scrapped, meaning Australians cannot be denied treatment for religious reasons.
The prime minister told lawmakers on Tuesday that the bill was important to him and that many conservative politicians insisted that the law was a "shield, not a sword" for institutions based on faith.
It also confirms the formation of a new religious discrimination commissioner to function within the existing human rights commission.
"This bill strikes a balance," said Tasmanian Liberal Senator Eric Abbottz.
"I'd like some things in it but some of my co-workers like it a little less."
The federal opposition was briefed on the law last week but has repeatedly said it will wait to see the full details of the bill before clarifying its position.
Shadow Attorney General Mark Dreyfus said in a statement that "the Labor government is looking forward to the long-running introduction of the Religious Discrimination Bill."
"Labor believes that all Australians should be able to live a life free from discrimination – and that all Australians should have the opportunity to see the government's bill, which will only happen once it is actually introduced."
.