Sunday, November 21, 2021, 9:37 AM – Multiple low-pressure systems are moving into Atlantic Canada this week, bringing extreme rainfall and howling winds, which could lead to flooding and damage.
Sunday will be the calm before the storm over Atlantic Canada. After a snowy Saturday in parts of the region, the end of the weekend will be calm before multiple lows slowly transition into the Maritimes and Newfoundland Monday. Multiple low-pressure systems will pose an increased threat of flooding with torrential rains totaling 50-100+mm, mainly in Nova Scotia, and intense, potentially damaging winds Monday through Wednesday. Details and timing, below.
MONDAY-WEDNESDAY: EXTENSIVE HEAVY RAIN, INTENSE WIND, FLOOD THREAT
Multiple low-pressure systems are expected this week off the US East Coast and toward the Maritimes. A powerful blocking pattern over the Atlantic will prevent that setup from going out to sea and will instead divert over the Atlantic provinces, creating plenty of tropical moisture.
As a result, many of the Maritimes will face a massive amount of Gulf and subtropical moisture Monday as various systems move through the region. Local flooding is the main concern, along with high winds early to mid-week.
In New Brunswick, rain will begin in the southern areas from late Sunday evening, while light snow will spread over the northern parts. There may also be periods of freezing rain at night in the interior of the central and northern parts.
"This will result in several days of windy and mild weather with several showers, which will be heavy at times," said meteorologist Dr. Doug Gillham of The Weather Network.
The first will be an intensifying, slow-moving low-pressure system pushing further into the Maritimes Monday morning. This system will then turn off and give a longer period of rain and strong winds. Confidence is growing in which regions will receive the most rain, with current guidelines indicating the area most at risk is between Halifax County and Cape Breton, and southeastern parts of New Brunswick.
Rainfall amounts associated with the multi-day event will be excessive for all of Nova Scotia, with Halifax and the heart of the province expected to see 75-100+mm. The rest of the province should be able to see 50-75mm, while parts of New Brunswick and western Newfoundland could see 30-50mm by the time it's finished.
"There is a risk of localized flooding, flash flooding and water build-up on roads. Travelers should be aware of adverse driving conditions," warns Environment and Climate Change Canada (ECCC).
Stormy, potentially damaging wind gusts of up to 90 km/h are expected from Monday to Tuesday. For areas in eastern Nova Scotia, gusts could potentially exceed 90 km/h, especially along the Atlantic coast.
The worst conditions are expected during the night from Monday to Tuesday. Rain could continue through Wednesday and possibly beyond in the eastern regions of Nova Scotia.
ECC has issued a special weather statement for all three maritime provinces, warning that the effects of the atmospheric river could last through Wednesday and possibly beyond.
Pounding surf and higher-than-normal water levels are possible Tuesday and Wednesday.
TEMPERATURES DROP, FREE RAIN, ICE RISK
Temperatures in the Maritimes will drop dramatically behind the frontal border early Tuesday night from Tuesday to Wednesday early in the morning.
As a result, there is a risk of rain turning into a wintry mix — brief frosts, ice pellets or sleet — if temperatures remain below freezing. Slippery conditions are quite possible for areas such as Halifax, NS and southern New Brunswick early Wednesday morning and into the night.
Due to the blocking pattern that will be in place, this system will deteriorate well into the late week, bringing lots of cloud and unstable weather into the region.
TIPS FOR FLOOD PREVENTION
Due to the expected torrential rains and strong winds next week, planning ahead is the best way to reduce the risk of flooding. While some damage is unavoidable, doing a pre-assessment can make a big difference.
Checking your insurance is definitely key, and There are a few things you can do at home to prepare.
Sealing your basement to prevent water from seeping into creeks
Lift electrical system components as high as possible
Making sure your sump pumps are working properly
If a major storm is coming, consider stocking up on supplies such as: sandbags, plywood, plastic sheeting, and shovels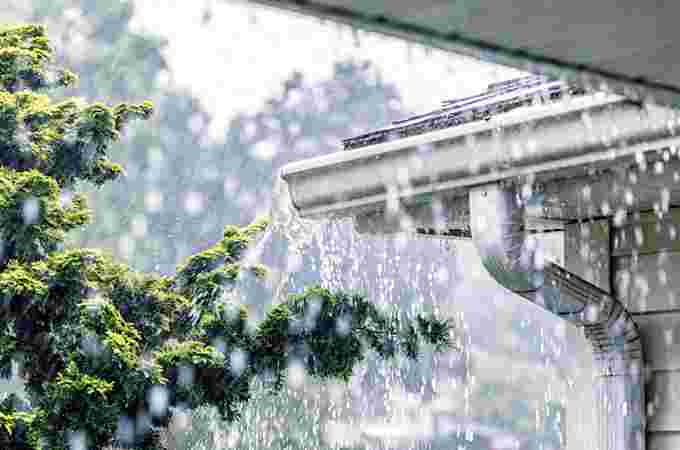 (Getty images)
Also, if possible, make sure to leave your car in an elevated area and avoid driving in flooded areas at all costs.
For other safety tips, click here.
Be sure to check back for the latest updates on the uncertain pattern that is shaping up for Atlantic Canada.
.