A medical emergency appeared
Sydney
North shores today after a woman fell into a boat near Manly.
Several ambulance crews, including intensive care and special operations paramedics, were deployed to Manly Wharf in the afternoon.
A rescue helicopter was sent out of the "flow" boat.
From there, a paramedic was thrown into the water before swimming in a boat to treat a patient.
The 20-year-old woman is said to have suffered a heart attack.
The boat was then taken to the pier where the doctor assessed the patient.
He was then taken by ambulance to North Beach Hospital in a stable condition.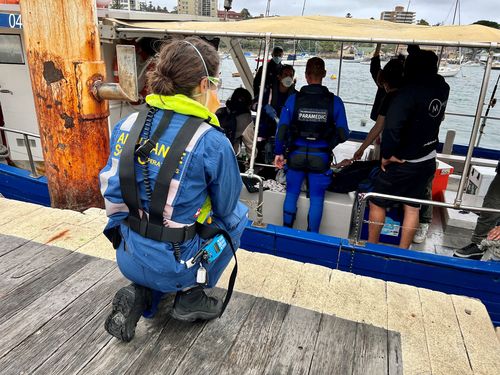 NSW Ambulance Inspector David Lambert praised the coordination of the officers involved.
"Given the preliminary information provided to Triple Zero, we believe that the patient may have undergone cardiac arrest on a ship heading east of Manly, North Head," he said.
"It simply came to our notice then.
"Our teams worked seamlessly with our emergency service counterparts at NSW Police, NSW Maritime, Volunteer Marine Rescue and Sydney Ports Pilot Vessel to pull the aggrieved boat to safety."