Yvette Slaughter, senior lecturer in language and literacy education at the Melbourne Graduate School of Education, said kindergarten was a "nice age to do this because children's needs are very immediate – I want to play outside, put on a hat, wash your hands." , snack time, let's eat fruit – and very often this can be indicated with a gesture.
"Over time, the kids get really good at saying, 'I know what it's like to communicate with my hands, with my gestures and not with my voice.' "
Adam Tinkler, of nonprofit Expression Australia, said he hoped the early childhood language program would not only encourage more Auslan study among students, but also boost employment for the deaf.
Languages ​​in the Early Childhood Language Program are taught by early childhood educators with language qualifications or by qualified language teachers.
Auslan is taught by a mix of people, from the profoundly deaf and hard of hearing to children of deaf adults and those who can hear.
The number of native speakers of Auslan is not clear as Auslan was not listed as a language option on the census until this year. The last census, in 2016, showed that the number of Auslan users was 11,682. About one in six Australians has hearing loss.
Emma McGrath, who manages teacher support for the early childhood language program, said it was "very special" for deaf educators to have their language appreciated.
Loading
She said Auslan had grown in popularity in kindergartens for a variety of reasons, including centers that can easily find teachers, and sign at major press conferences and Wiggle's performances. "Auslan is becoming more and more visual in our society and has led many people to think that it is a useful language to learn, that our children will be able to access this culture and community."
She said the program had increased in value during the pandemic as families were able to see video lessons for themselves.
"It's something that everyone learns together. The parents don't know more than the children, so the children experience the role of teacher in the family, which is really great."
Auslan is also increasingly common in primary schools.
More than 31,000 students studied it in government primary and secondary schools and the Victorian School of Languages ​​last year, making it the sixth most popular language.
A spokeswoman for the Ministry of Education said the program has helped more than 12,000 preschoolers learn another language since 2019.
All decisions on funding for the early childhood language program after December 2022 will be made as part of the state budget for 2022-23.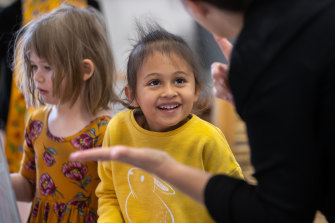 the morninging Edition newsletter is our guide to the most important and interesting stories, analysis and insights of the day. Register here.