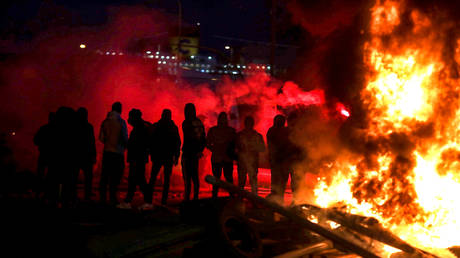 A strike by more than 20,000 metal workers in Cadiz, Spain, has halted operations at key factories including Airbus and Alestis, erecting barricades, blocking roads and setting vehicles on fire.
Cadiz, the capital of the country's southernmost province, has become one of the main protests against working conditions. Avenida de Astilleros is currently closed to traffic and protesters set vehicles on fire.
Picket lines also blocked access to major shipbuilding and industrial sites of key local companies, such as Airbus, Navantia, Dragados, Alestis and Acerinox, interrupting their work.
Protesters also closed off access to major industrial zones in Puerto Real and Campo de Gibraltar with barricades and bonfires. Train traffic is also being blocked and pipes are being thrown on the track.
The national police have been deployed to get the situation under control and to protect the industrial estates. At some point on Tuesday, the strike turned into a large-scale showdown, with protesters throwing rocks and screws at police, who responded by firing rubber bullets. One person was arrested.
The Federation of Metal Entrepreneurs (FEMCA), which represents the major employers in the region, previously reiterated its offer for a dialogue with the workers, but emphasized that the union's requests were "unjustly" and "disproportionate."
The workers say they will continue the strike until FEMCA offers them an acceptable agreement.
Do you think your friends would be interested? Share this story!