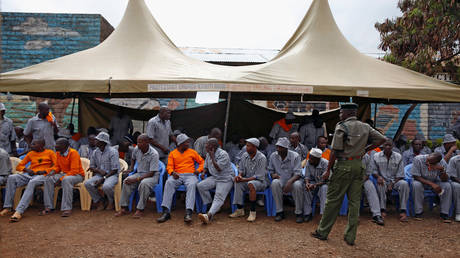 Kenyan authorities are offering a total reward of 60 million shillings (about $535,000) for information on the whereabouts of three terrorist suspects who escaped from a maximum-security prison on Monday.
The country's Directorate of Criminal Investigations released a series of tweets containing photos and brief descriptions of the fugitives.
One of the suspects, Mohamed Ali Abikar, was convicted two years ago for his role in the 2015 Garissa University attack that killed 148 people and injured 79.
Another, Musharaf Abdullah, was arrested on suspicion of involvement in a foiled plan to attack parliament buildings. He was later charged with possession of explosives, ammunition and firearms.
The third man was named by authorities as Joseph Juma Odhiambo, who was arrested while allegedly trying to enlist with the al-Qaeda-affiliated jihadist group Al-Shabaab.
All three suspects are dangerous, police have warned, but they did not say how Abdala, Abikar and Odhiambo managed to escape.
Do you think your friends would be interested? Share this story!