Good morning. Today, Health Secretary Matt Hancock will dominate, responding to many of his criticisms Dominic CummingsThe former chief adviser to the prime minister, as evidenced by his select committee, yesterday – Hancock is in the Commons this morning and is holding a press conference this afternoon – but Kim Inggs has not only criticized Hancock, but the government has responded. Also
Robert GenericThe community secretary, who was interviewing this morning, made it clear that the government was taking a two-pronged approach. Broadly speaking, it does not deal with shortcomings, Generick said, because he said the government wanted to wait until the investigation, which will not begin until next year. Generic said:



Last year was going to be uniquely challenging and difficult for everyone but very serious for those who have lost loved ones and they are right to seek answers and explanations. Next year we have a full public inquiry.

I think this is the right moment to consider all these things in a calm and reflective way with all the evidence.
But ministers are responding to some of Kim's allegations, and Generick said he probably doesn't believe in the most miserable one – "thousands of people died who shouldn't have died." When asked if Kim Ings was wrong to make this claim, Generic replied:



Yes, I think it is because you have to remember that we did not have all the facts when the decisions were made. No one could doubt for a moment that the Prime Minister was doing anything but act with good intentions with the information and advice available to him … We didn't know much at the beginning of the epidemic. This new virus.
I'll post more from Generic's interview soon.
Here is the agenda of the day.
10am: Transportation Secretary Grant Shaps gives a talk on transportation policy.
10:30 am: Matt Hancock, the health secretary, answers an urgent question from Commons about the handling of his department by Covid.
12pm: Downing Street is expected to hold its daily lobby briefing.
12pm: Scottish Prime Minister Nicola Sturgeon took questions to the Scottish Parliament.
2 p.m. Public Health England England publishes its weekly Covid Monitoring Report.
2.30 pm: Sir Tom Scholar, Permanent Secretary of the Treasury, testifies to the Commons Treasury Committee about Greensil Capital. At 4 p.m., Chancellor Ishii Sunak gives evidence.
2.30 pm: Tony Sewell, chairman of the Commission on Caste and Racial Inequality, testifies to the Commons Women and Equality Committee.
3.30 pm: Cabinet Office Minister Michael Gove has given proof of covid status certification at a meeting of the Committee on Public Administration and Constitutional Affairs.
PM PM: Hancock held a press conference.
And Boris Johnson Visiting this morning, where he is expected to record a short TV interview.
Politics Live has been a mix of cowardly and non-cowardly politics lately, but today I expect to focus mostly on Hancock, and other reactions to the evidence of yesterday's shortcomings. For Global Covid Development, read our Global Live Blog.
I try to monitor the comments below the line (BTL) but it is impossible to read them all. If you have a direct question, include "Andrew" somewhere and I'm more likely to find it. I try to answer questions, and if they are of general interest, I will post questions and answer above the line (ATL), although I cannot promise to do this for everyone.
If you want to get my attention quickly, use Twitter. I am active NdAndrewSparrow.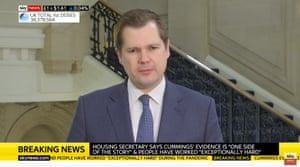 .